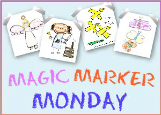 Anybody remember last year's
ignoring of the Easter basket?
Well this year, Jack actually met the Easter Bunny! Mr. E. Bunny himself went to Jack's school and shook Jack's hand. Ms. Sunny reported that Jack thought the Easter Bunny was one funny guy.
We were thrilled! Since Jack enjoyed meeting Mr. Bunny, we thought it would be a little more concrete for him this year. I talked to Jack about how the Easter Bunny was going to bring him a basket with some surprises. And with a few ideas from some friends, there were great items in the basket. They were sure to please. I just *knew* that this year was going to be different.
To help build the anticipation, I really hyped up the Easter Bunny and the basket on Saturday. Then Saturday evening, I got Jack to help me decorate a very tactile high contrast Easter egg.
It's a foam "egg" on black construction paper. Jack added the bright foam shapes stickers.
I told Jack that we were decorating the egg and leaving it in the basket to let the Easter Bunny know that we celebrate Easter and he was welcome to stop by our house. I even got Jack to help me put the basket in place. My plan was going great!
Sunday morning we woke up to find the egg moved to the art wall and the basket filled.
Dancing, singing, light up rabbit, Spinner rabbit, water balloons, bubble spinner, spinning tops, chocolate Easter bunny, miscellaneous candy, cheese puffs, and popcorn.
And here is a transcript of our conversation:
Marie: Let's see what the Easter Bunny brought you!
Jack: Take a bath!
M: You want to take a bath now?
J: Yes. Irish!
M: Okay, let's go find Irish.
J: Searching. Irish.
M: Searching. (Spots Irish). In the bag.
J: (vision not so good this AM--fluctuates due to cortical visual impairment) Irish?
M: In the bag.
J: Irish?
M: (thumps Irish to make noise) Here's Irish!
J: Irish! (Grabs Irish)
M: (squeezes singing, dancing, light up bunny's hand hoping to generate Easter basket interest) Look!
J: Turn it off.
M: Turn it off?
J: Yes.
M: (turns bunny off)
J: Take a bath (heads to bathroom)
*sigh* Jack was not this conversational last year. He speaks so much more and so much more clearly this year. We have much to be grateful for. But I have to be honest....I really really really wanted him to get excited about that basket this year!
To see other's Magic Marker Monday posts and to link up yourself, click
here
.